Lamar Odom Fan Center
|
home




Lamar Odom & Clippers News

NOTICE MESSAGE BY WEBMASTER ON
LAMAR ODOM'S DRUG SUSPENSION:
We Here At Lamar OdomFan Center.com are deeply saddened about Lamar's troubles with drugs again. However, us and like many others still believe in Lamar and he will get his life back on track. We will continue to run and support Lamar and the Clippers through this time and throughout his career. We thank You for supporting Lamar as well.
Thanks,
GP
Webmaster Lamar Odom Fan Center.com
THE CLIPPERS NEW ARRIVAL: ELTON BRAND

THE CLIPPERS NEW BRAND-NAME PLAYER
BY: GALO PESANTES
Draft Day 2001 was another successful draft for the Clippers. For the second year in the row, the Clippers had luck on their side when they nabbed the second overall pick in the 2001 NBA Draft. The Clippers drafted local High School Phenom Tyson Chandler from Dominguez Hills High School in Compton, CA. However, the Clippers made a steal of a deal when they dealed Chandler and Forward Brian Skinner to the Chicago Bulls for the All-Star Power Forward Elton Brand. The whole Clipper Organazation were excited with their new acquisition and eager to get to work on making a playoff run in the 2001-2002. Lamar Odom reaction to the trade was quoted by this statement, "I was happy. Elton Brand can put us where we need to be right now. I couldn't believe it---I still feel like its unreal." Adds the new arrival Elton Brand, "I found out 15 minutes before it was announced, and was excited. I'm excited to be here and can't wait to get started." Certainly, the Clippers future looks bright with a projected goal of 45 wins and perhaps a playoff berth in this years playoffs. Its a fact the Clippers are looking to next years draft, looking for the hat trick draft success to cap off their season.
ELTON BRAND INFO & CAREER AVERAGES :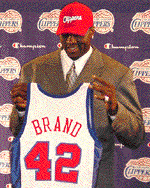 Elton Brand
College: Duke
Pro Years: 2
Position: Forward
Height: 6'8
Date Of Birth: 3/11/79
CAREER AVERAGES:
| | | | | |
| --- | --- | --- | --- | --- |
| POINTS | REBOUNDS | ASSISTS | BLOCKS | STEALS |
| 20.1 | 10.0 | 2.5 | 1.61 | .88 |

Projected Clippers Lineup With New Addition:
C Michael Olowokandi
PF Elton Brand
SF Lamar Odom
SG Eric Piatkowski
PG Jeff Mcinnis